Transformation
Ranked 10 in JSE's Most Empowered Companies: New Codes (2013)
We care, We believe, We transform.
'We endeavour to be the change we want to see in this country. This is not a competition. This is the future prosperity of our beloved country and all who call it home. Transformation is not only a business strategy, it is a country strategy and we are all essential to its success.' - Basadi Letsoalo

At Adcock Ingram we strive to add value to life. This includes the lives of our employees, our customers, the communities in which we operate and our shareholders.

As a Level 3 B-BBEE contributor and a leader in the healthcare sector, we are committed to the development of this nation and its free society. From the factory floor to the boardroom, the vision is the same. Over the years we have driven numerous transformation initiatives, including a shareholding program which allows previously disadvantaged employees to own a stake in the business.
Basadi Letsoalo
Executive director – Transformation and Human Capital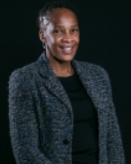 ---