Ophthalmology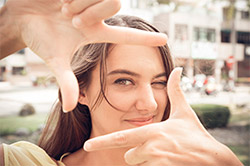 The Adcock Ingram Prescription Ophthalmology portfolio treats various diseases and disorders of the eye including dry eye, eye infections, inflammation, allergic conjunctivitis and glaucoma.
Our Ophthalmology portfolio consists of eye drops that treat both acute and chronic eye conditions, to improve and maintain healthy eyes.
Speak to your doctor or pharmacist about the Adcock Ingram's range of eye medications.
ZA.15.COR.002 05/2015
Adcock Ingram Limited. Reg. No. 1949/034385/06. Private Bag X69, Bryanston, 2021, South Africa. Telephone + 27 11 635 0000
---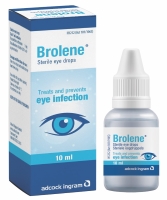 Brolene Eye Drops
Adcock Ingram Healthcare (Pty) Ltd. has acquired Brolene Eye Drops from Genop Healthcare (Pty) Ltd. The responsibility for the marketing and distribution of this brand transferred to the OTC division of Adcock Ingram on 01 October 2016.
Brolene Eye Drops augment the existing ophthalmology product offerings from Adcock Ingram, which are Allergex Eye Drops and Gemini Eye Drops. STOP-ALLERG Eye Drops have also been acquired from Genop, extending the company's presence in this category.
| | |
| --- | --- |
| Brand name | Brolene Eye Drops |
| Indication | For the treatment of eye infections and for the prevention of infection resulting from minor injuries to the eye |
| Description | Brolene is broad-spectrum with antibacterial and antifungal properties. It is well tolerated and can be used effectively on mucus-pussy eye infections. |
| Dosage and directions for use | Brolene is suitable for adults and children from 6 years old and above. Recommended dosage: 1 or 2 drops in each affected eye four times per day for not more than a week |
| Pack sizes and variants | Sterile dropper bottle with 10 ml solution |
| Where available | Available in pharmacies nationwide without prescription |
| | |
| | |
| | |
S0 Brolene eye drops. Each ml contains propamidine isethionate 1mg. Application number: H1212 (Act 101/1965). For full prescribing information, refer to the package insert approved by the Medicines Regulatory Authority.
---