Citro-Soda
Citro-Soda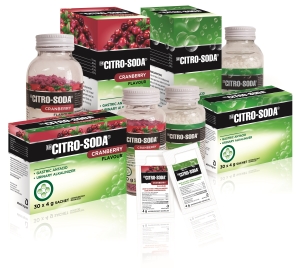 Citro-soda: ACID SYMPTOMS SORTED! Citro-soda is a single solution for a variety of acid-related problems including heartburn, indigestion and the symptoms of UTI, while combating of high uric acid levels which can lead to gout
1
What is UTI?
In healthy people, urine in the bladder is sterile—no bacteria or other infectious organisms are present. The tube that carries urine from the bladder out of the body (urethra) contains no bacteria or too few to cause an infection. However, any part of the urinary tract can become infected. An infection anywhere along the urinary tract is called a urinary tract infection (UTI).
2
Bacterial UTIs can involve the urethra, prostate, bladder, or kidneys.
2
Symptoms may be absent or include urinary frequency, urgency, dysuria, lower abdominal pain, and flank pain. Systemic symptoms and even sepsis may occur with kidney infection.
3
What causes UTI 2
UTIs are almost always caused by bacteria, although some viruses, fungi, and parasites can infect the urinary tract as well. More than 85 % of UTIs are caused by bacteria from the intestine or vagina. Ordinarily, however, bacteria that enter the urinary tract are washed out by the flushing action of the bladder as it empties
What are the symptoms of UTI? 4
The symptoms of a bladder infection include:
Cloudy or bloody urine, which may have a foul or strong odour

Low fever in some people

Pain or burning with urination

Pressure or cramping in the lower abdomen or back

Strong need to urinate often, even right after the bladder has been emptied
If the infection spreads to your kidneys, symptoms may include:
Chills and shaking or night sweats

Fatigue and a general ill feeling

Pain in the side, back, or groin

Flushed, warm, or reddened skin

Nausea and vomiting

Very bad abdominal pain (sometimes)
How does heartburn feel? 5
A burning feeling in the chest just behind the breastbone that occurs after eating and lasts a few minutes to several hours.

Chest pain, especially after bending over, lying down, or eating. Remember, you should see your doctor right away for any unexplained chest pain. Don't assume it's heartburn until your doctor tells you it is.

Burning in the throat -- or hot, sour, acidic or salty-tasting fluid at the back of the throat.

Difficulty swallowing.

Feeling of food "sticking" in the middle of the chest or throat.

Heartburn may cause chronic cough, sore throat, or chronic hoarseness.
Causes of heartburn 6
The basic cause of heartburn is a lower oesophageal sphincter (LES), that doesn't tighten as it should, allowing food and stomach acid to flow back into the oesophagus. Two excesses often contribute to this problem: too much food in the stomach (overeating) or too much pressure on the stomach (frequently from obesity, pregnancy, or constipation). Smoking, which relaxes the LES and stimulates stomach acid, is a major contributor.
Specific Conditions:
Studies regarding the effect of citrates on pregnancy have not been done. Caution should be exercised if a woman is nursing.
7
Ask your doctor!
Pack sizes and variants
60 g, 120 g bottles and 4g sachets in regular and cranberry flavours for maximum convenience.
Where available
Available at all major pharmacies and retail outlets nationwide
Links